8 Cooling Dog Beds to Beat the Heat
Keeping your dog comfortable is always important. But when temperatures soar, helping our furry friends beat the heat zooms to the top of any pet parent's priority list.
Whether you and your pooch live in a warmer climate year-round or battle brutal summer temperature spikes, investing in a cooling dog bed or cooling dog bed insert can help keep your dog cool.
Quality cooling dog beds and bed inserts don't just keep your dog comfortable; they may also be essential for their health and safety. Cooling dog beds can help prevent dogs from overheating, as well as keep them from getting heat stroke.
It's best not to wait for the peak of a heatwave to start your search, so we've rounded up the best picks for cooling dog beds and cooling dog bed inserts to help you find the perfect fit fast. But before we get to our list of favorite products, read on for more details about cooling dog beds and what you need to consider before you buy.
What is a Cooling Dog Bed?
Like people, some dogs can be susceptible to overheating—regardless of whether they are indoors or outdoors and whether the heat is arid, muggy, or sweltering. If your dog has a lot of fur or longer hair, consider a cooling dog bed to keep your pooch comfortable.
You have plenty of options to choose from, including cooling gel beds, cooling mats, mesh beds, even elevated beds. A far cry from ordinary dog beds, these beds are designed to wick heat away from your dog and regulate their environment. Many can even be activated with your dog's body—no electricity required—and cool them down for a set amount of time until they naturally recharge. Cool, huh?
What to Look For in a Cooling Dog Bed
Before you buy a cooling solution for your dog, here are some important factors to consider:
Size
As with every kind of dog bed, consider your dog's size before you make a selection. Most cooling dog varieties come in several sizes to suit different breed sizes or stages of life. Pick the options that will be most comfortable for your pet, but also consider how large they will grow.
Materials
Your two main options in a cooling dog bed are mesh or memory foam. Consider mesh if your dog will be using the bed primarily outdoors because these beds are more portable and easier to clean with a hose. A memory foam option is ideal for indoor use and for dogs with health issues who need extra support and comfort.
Ease of Use
The biggest plus for any dog bed—cooling or otherwise— is if it's easy to clean. Choose a dog bed that comes with a removable cover that you can throw into the wash. Assembly should also be factored into your decision. If you're not handy or don't want to have to use any tools to set up your dog bed, go with a memory foam bed or one that's ready to use without requiring any assembly.
Potential Dangers
If your dog is prone to chewing, don't choose a cooling dog bed that features gel pads or gel beads. If your furry friend chews a hole in the bed, they could ingest such materials. While non-toxic, cooling bed materials could still cause stool issues or an upset stomach.
As always, when it comes to medical issues (such as arthritis), consult with your veterinarian before you make a purchase. They may have some really good suggestions that will help keep your ailing dog cool and comfortable.
How We Chose Our Top Cooling Dog Beds
We rounded up the best cooling beds below based on a range of key features that make up a quality product. We sought out dog beds in various sizes, materials, and designs to give you a variety of options to choose from, so you could select the one that suits your needs best.
We then narrowed down the list by factoring in overall ratings, as well as what buyers had to say about the products. In other words, we selected the cooling beds with the best features for dogs, most positive reviews, and 4-star ratings or higher.
8 Best Cooling Dog Beds
Now that you know what to look for in a cooling dog bed, here are the best options on the market.
All featured products are chosen at the discretion of the author. However, Vetstreet may make a small affiliate commission if you click through and make a purchase.
Best Cooling Dog Bed Overall
Our pick: Sealy Lux Quad Layer Orthopedic Dog Bed with Cooling Gel
Made by Sealy, a respected name in beds designed for humans, this orthopedic dog bed comes equipped with a cooling gel to regulate your dog's body temperature, plus a quad-layered foam to give relief and comfort to dogs who suffer from arthritis, joint, or bone problems.
Highlights
Base is made of pro-charcoal to absorb odors
Comes with a waterproof liner and non-slip bottom
Machine washable cover is removable for easy cleaning
Comes in five stylish colors: autumn brown, military green, modern gray, navy, and brown
Things to Consider
Available in small, medium, large, and extra-large sizes
Requires a little assembly, which surprised some buyers
Best Non-Memory-Foam Dog Bed
Our pick: Newton Baby Pet Mattress
From Newton Baby comes their exclusive Wovenaire® technology. This washable, cooling, and temperature-regulating bed is unlike any other dog bed on the market. Designed to last and made with a soft, quilted removable cover, the bed is available in three sizes. The entire scratch-resistant cover is machine washable from the cover to the core.
Highlights
Wovenaire core is made of 90 percent air 10 percent food-grade polymer for improved air circulation and to cushion pressure points
Ideal support for dogs of all ages, especially seniors
Breathable cover helps avoid overheating
GREENGUARD Gold Certified for low chemical emissions
Hypoallergenic for a cleaner sleep
Things to Consider
A bit pricey for some budgets
Bed is not waterproof but it is water-resistant
Wovenaire core should taken into the shower or hosed off outside
Best Cooling Gel Dog Bed
Our pick: FurHaven Comfy Couch Cooling Gel Cat & Dog Bed with Removable Cover
This memory foam bed will contour to a dog's body for maximum comfort and support. Ideal for dogs who need relief from muscle pain or joint discomfort, the micro gel beads in this bed will also make dogs more comfortable.
Highlights
Soft-sided walls and bolsters help support backs, hips, and heads
This eco-friendly bed is filled with high-loft polyester made from recycled water bottles
Removable cover with zippers can be machine-washed
Comes in three color options: diamond gray, diamond blue, diamond brown
Things to Consider
Available in small, medium, large, jumbo, and jumbo plus sizes
Not recommended for dogs known for inappropriate chewing
Best Cooling Orthopedic Dog Bed
Our pick: Reddy Cozy & Cool-Touch Dog Bed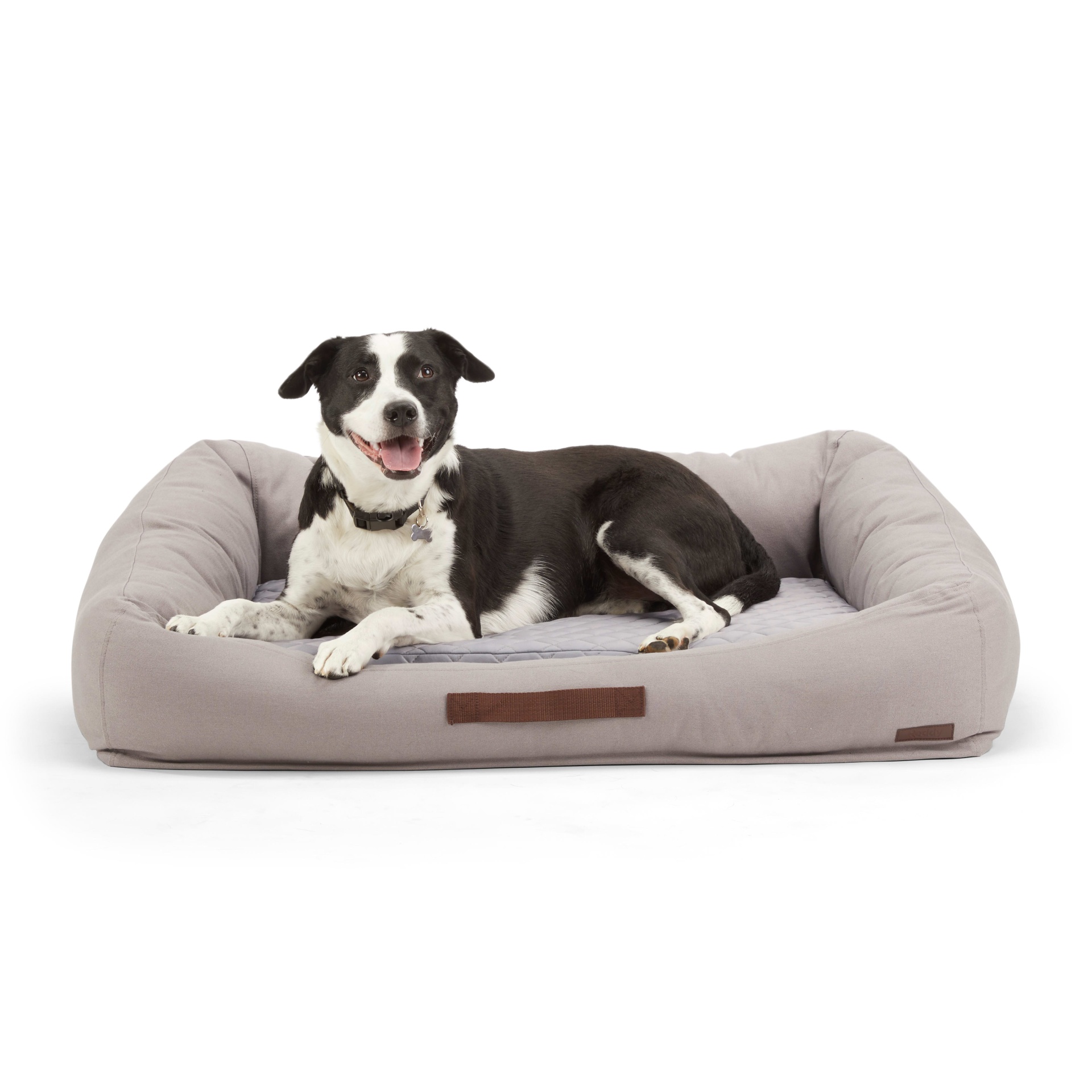 Designed with an orthopedic foam base, for added support, this bed also helps regulate your pup's temp. One side of the sleep surface features cozy fleece for warmth, while the other is covered with cool-touch fabric to help your dog comfy and chill as needed. Plus. the skid-resistant bottom means it won't slip and slide all over the place.
Highlights
Orthopedic foam base offers extra support
Cool-touch fabric on one side of the sleep surface; fleece on the other
Skid-resistant bottom
Removable cover is machine washable
Things to Consider
Best Outdoor Cooling Dog Bed
Our pick: PawHut Elevated Portable Dog Cot Cooling Pet Bed with UV Protection Canopy Shade
This elevated, cot-style pet bed provides cooling relief for dogs when outdoors. Air flows freely around the bed, keeping dogs cool while they rest comfortably seven inches above the ground. Made of mesh fabric and a powder-coated steel frame, the 30-inch bed can support up to 26 pounds, the 36-inch bed can support up to 44 pounds, and the 48-inch bed can support up to 55 pounds.
Highlights
Canopy top gives your dog necessary shade from the sun
Easy to pack up and take on the road; comes with a travel bag
Things to Consider
Available in 30-inch, 36-inch, and 48-inch options
Comes in two colors: gray and black
Best Large Cooling Dog Bed
Our pick: FurHaven Minky Plush Luxe Lounger Cooling Gel Dog Bed with Removable Cover
If you have a large dog, this cooling bed comes in sizes that will keep even king-sized canines comfortable. The giant-sized option measures 58 inches in length, 42 inches in width, and 9 inches in height—one of the largest we've seen so far. The orthopedic foam at the bed's core is nested under a gel-infused foam topper that keeps dogs cool.
Highlights
It comes in a variety of larger sizes
Removable cover that's water resistant and easy to wash
Available in four stylish colors: espresso, camel, spruce blue, and gray
Things to Consider
Choose from five sizes: medium, large, jumbo, jumbo plus, and giant
Not recommended for pets who like to chew
Best Dog Cooling Pad or Mat
Our pick: Chillz Cooling Mat for Dogs
Activated by pressure, this cooling dog pad doesn't need any refrigeration or electricity to work. Use it indoors, outdoors, or in your car to keep your pet cool on hot days.
Highlights
Made of innovative, patented dog cooling materials that are non-toxic and puncture-resistant
Can easily be packed up and used on-the-go
Safe for kids too (in case you have little ones at home)
Things to Consider
Lasts for up to three hours at a time, but recharges itself after 15 to 20 minutes of non-use
Only comes in one color (blue)
Available in medium, large, and extra-large sizes
Best Elevated Dog Cooling Bed
Our pick: Amazon Basics Cooling Elevated Pet Bed
Strong yet lightweight, this elevated pet bed features breathable mesh fabric that will help your pooch stay cool when outdoors. Gently-curved corners also make it safe for any young ones in your family to be around.
Highlights
Easily cleaned with water
Comes in two colors: gray and green
Things to Consider
Assembly required using screws and hex tool, which are included
Available in extra small, small, medium, large, and extra large sizes